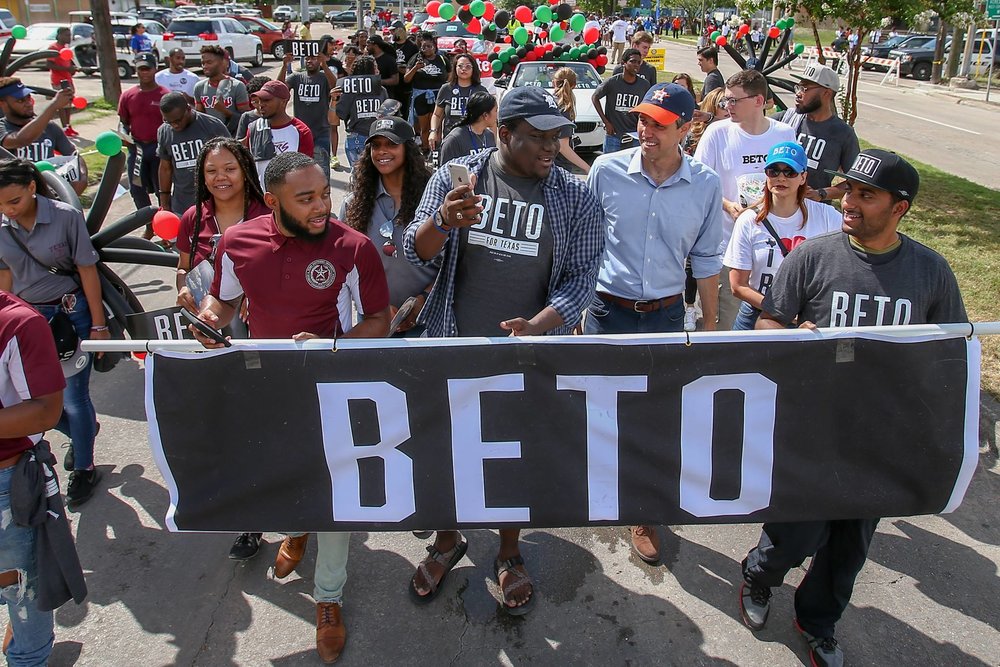 Who We Are
We're a group of people who care about the future of our country, and believe Beto O'Rourke should be the next President of the United States. We're volunteers, and we're not affiliated with any official 2020 campaigns. But like so many others, we're worried about our country's future and feel that we can't afford to sit on the sidelines.
We take our inspiration from organizations that have channelled people's hunger for change into authentic, grassroots activism. We're not taking big money donations. We're simply looking to build a grassroots movement of people who believe in Beto like we do.
Why Beto?
Every four years, we're told that "this is the most important election of our lifetime." The difference this time is that 2020 actually is.
As Democrats, we need to nominate a candidate who will move our country past four years of turmoil and bigotry.
Even more important, we need to nominate a candidate who can unite Democrats - and all Americans - around a shared vision of who we are as a party and a nation. Democrats win when we remind people what we stand for: fairness, inclusivity, and bold, progressive solutions to the challenges we all face.
We believe the candidate best-suited to run such a campaign - and win back the White House - is Beto O'Rourke. Beto's campaign for U.S. Senate was among the most inspiring stories of 2018. By knitting together a diverse coalition, Beto turned out millions of new voters - and came closer to turning Texas blue than any candidate in the last 20 years. In a race where he could have played off of voters' dislike for his opponent, Beto chose to make his campaign about his vision for what Texas should be: a place where everyone has access to a good job and quality, affordable healthcare, where women's rights and civil rights are protected, and where we embrace our diversity as a strength. This is exactly the type of campaign Democrats need to run nationally in 2020.
Beto hasn't decided whether he's running for President. However, we believe so strongly in Beto's potential candidacy that we think it's critical to start organizing now. In a field that could include more than a dozen candidates, there's not a moment to waste. Make no mistake about it: Beto can win. A recent Politico poll showed that among the field of potential Democratic candidates, Beto was third. For a candidate who has never run nationally before, that's very impressive - and a sign of Beto's potential as a 2020 candidate.
How You Can Get Involved
Sign up to join us! You can also follow us on Facebook, Twitter, and Instagram. For more information about how to get involved, take a look at our Organizing Guide.
In the coming weeks, we'll share more about how you can get involved in-person. If you're interested in organizing in your community - no matter where you are - please let us know and we'll help you get started.
Our Team
Lauren Pardi - Lauren has over 10 years of experience in government and politics at a state and national level. She worked as a Communications Manager in the US House of Representatives and for President Barack Obama's 2012 Democratic National Convention Committee. She also served as Regional GOTV Director for Obama For America - New Hampshire. Today, Lauren works with local and statewide candidates to direct event, development, and campaign programs.

Adam Webster - For the past 15 years, Adam has worked in New England government and politics ranging from City Council elections to statewide campaigns. In the past four years, Adam has managed or served as general consultant in over a dozen victorious Democratic campaigns and raised over $1 million for candidates. Adam and his wife split their time between Boston and Southern Maine.

Will Herberich - Will has led non-profit and political media campaigns for the past five years in New York, Illinois, and Connecticut, after spending four years working on Democratic campaigns in Massachusetts and Pennsylvania. He lives in Boston, except for when he's spending time in Southern Vermont.